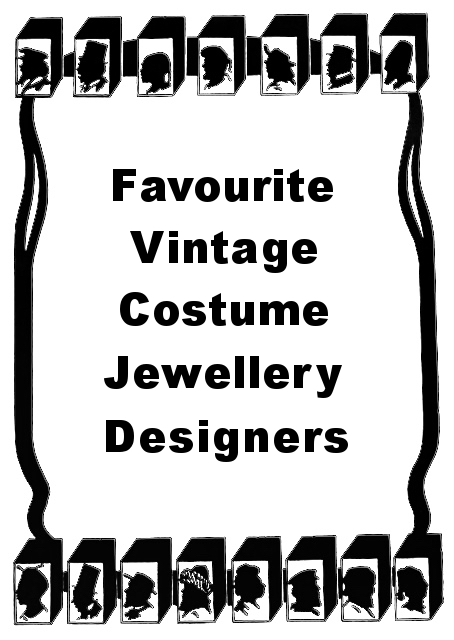 Arabella Bianco's Favourite Vintage Costume Jewellery Designers
AVON
Best known for cosmetics, Avon began designing costume jewellery in 1963 as free gifts to go with their perfumes. Avon started selling jewellery separately in 1965, but until 1970 most pieces were only available with an Avon product. After 1970 the costume jewellery became a separate section in the Avon catalogue, and could be bought on its own.
BOUCHER
Marcel Boucher was a French jeweller who emigrated to New York in the 1920s. He studied under Pierre Cartier and in 1937 established his own company. His fine quality brooches often have several layers. When he died in 1965 his wife took over the company.
BARTEK
Bartek was an American company that designed for Napier in the late 1930s, before opening their own business around 1953. Their quality jewellery was mid-century modernist and was inspired by the Art Deco period.
BUTLER & WILSON
Nicky Butler and Simon Wilson began their jewellery careers selling antique jewellery from London market stalls, and then opened a shop on the Fulham Road in 1972 marketing their own designs. By the 1980's they were selling all over the world. They are still in business today, selling their costume jewellery through the Butler & Wilson shop in London, and online.
CARL ART
The Carl Art jewellery company began in Providence, Rhode Island in 1936, and was founded by German immigrant Carl Schraysshuen and American businessman Arthur Loercher. They manufactured fine quality gold, gold-filled, and sterling silver jewellery. After his death in 1953 Carl's half of the company was sold by his wife.
CHRISTIAN DIOR
In 1946 Christian Dior opened 'Maison Dior' in Paris. It was not until 1950 however that Dior began to make costume jewellery to match his clothing collections. Always well made, Dior has been one of the most successful couture companies to this day.
CINER
Ciner was founded in 1892 in New York City by Emanuel Ciner. The company is still in business today and is run by the Ciner family. Ciner is known for high quality costume jewellery, and pieces have been worn by many celebrities including Elizabeth Taylor.
MONET
Monet was founded in 1929 by Michael and Jay Chernow in Providence, Rhode Island, and became one of the leading names in costume jewellery design during the 1940's. By the 1980's Monet was producing jewellery for Yves Saint Laurent, and is still a successful company today.
NAPIER JEWELRY
Napier began in 1875 in North Attleboro, Massachusetts, USA as Whitney and Rice, and ten years later became E. A. Bliss Co. In 1922 the name was changed again to The Napier Co. The mark Napier in block has been used since 1922 until Napier's sale in 1980, when items were marked in script. The company was bought out, but closed down in 1999.
PANETTA
Beneditto Panetta emigrated from Naples, Italy in 1901 and after working for Trifari and Pennino, set up his own company in New York in 1945. He made replicas of fine jewellery, and the slogan of the company was 'if it didn't look 'real', it went back to the drawing board '. Jewellery was produced using the finest quality materials and limited production runs, and was therefore always expensive. Panetta was sold in the 1980s and closed in 1995.
PENNINO
Frank Pennino was an Italian who emigrated from Italy to found his own New York company in 1926. He was a master craftsman and used the finest quality rhinestones and crystals mounted in gold plate or sterling silver. Each piece was an exquisite imitation of the real thing. Pennino ceased trading in 1966, at which time all the jewellery moulds were destroyed.
PIERRE BEX
The French company Pierre Bex manufactured high quality jewellery and accessories from 1969 to the late 80s. Their jewellery was inspired by the Art Deco and Art Nouveau eras. The silver plated jewellery was handmade from the original stampings, enamelled and set with crystal rhinestones.
SARAH COVENTRY
In 1949 Charles H. Stuart began a jewellery company which he named after his granddaughter Sarah Coventry. He began selling through home parties which lasted until 1984 when the company was sold. Sarah Coventry jewellery was not designed or manufactured in-house, it was made by other companies in Rhode Island.
TRIFARI
Gustavo Trifari was born in Naples but emigrated to New York in 1902. He began his own business in 1918 when he met Leo Kraussman. They were joined by Carl Fishel, in 1925. In 1975 the company was bought by Hallmark, and since then has been taken over by several companies. In 2000 production was finally moved overseas which brought an end to high quality signed Trifari jewellery.
WEISS
Albert Weiss, a native New Yorker, began the company in 1942. Weiss produced some of the most beautiful and quality jewellery of the time. Although not as large as some of the other jewellery companies, the craftmanship was exceptionally high. Weiss closed their doors in 1971.